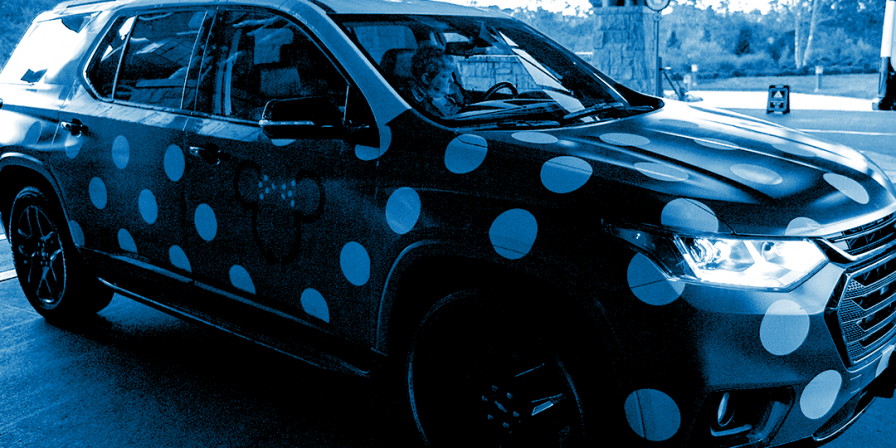 Paying for Perks: Part 3 – Perks with Polka Dots
In Part 3 of our look at the extra perks from our last Disney World trip, we'll cover our first time using the Minnie Van service.

One thing that I love most about a Disney World trip is not having to drive myself anywhere. From the moment I get on the plane, I can sit back and let someone else be responsible for navigating. From buses and boats to the monorail, there's always options to get where you need to go.

While all of those options are free of charge, they are also typically crowded and can sometimes take more than an hour to get you to your destination. This is where the Minnie Van service comes into play – paying for convenience.
How it Works

Minnie Vans are a new private vehicle service at Walt Disney World, operated in partnership with Lyft. It works just like a regular Lyft ride except that the vehicles are all dressed up like Minnie Mouse and operated by Disney Cast Members. If you already have Lyft account setup and the app installed on your phone, you just have to activate the Minnie Van option via a pop-up notification you receive in My Disney Experience or by visiting a Cast Member at the Concierge Desk of your resort. I've read that not everyone gets the pop-up automatically upon entering Disney World grounds, but we didn't have this problem. After that it works just like a regular Lyft ride, put in your destination, request a ride and choose the Minnie Van option.

The pricing for this service has changed a few times since the program was initially tested, going from a flat fee of $25 per ride no matter the distance to a base rate of $15 per pick-up, plus a per mile fee that varies based upon demand, but will typically be around $2.75 to $3.00 per mile. You can even take a Minnie Van to the airport now for $150, but honestly there are plenty of other Disney World VIP experiences and upgrades I'd rather spend $150 on.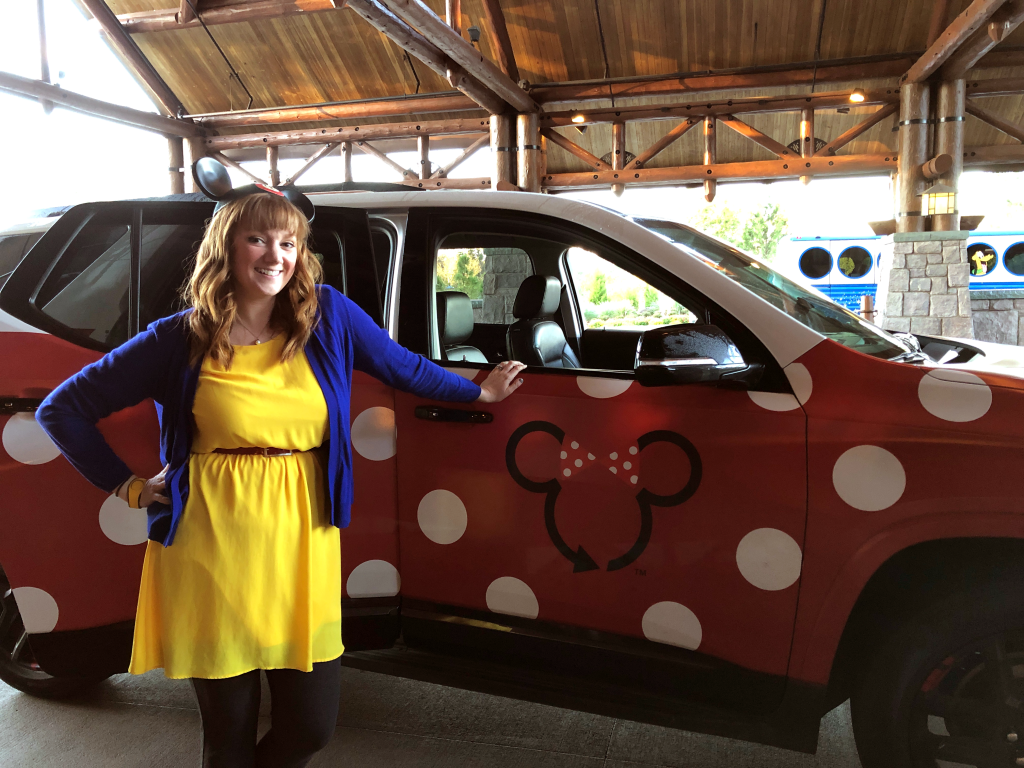 How was the Ride?

Dr. Robinson and I used the Minnie Van service 3 out of the 4 days that we were there. We only skipped a day of use because we strongly believe that there is no better way to arrive at Epcot than by monorail.
Minnie Van Trip 01:
On our first full day in Disney World, we had an early morning breakfast ADR at Cinderella's Royal Table so we chose to use a Minnie Van because we wanted to get to the park early enough to take some pictures while there were fewer people in the park without having to wake up at the crack of dawn to allow for bus delays. I made sure to activate the Minnie Van option in the Lyft app the night before so we were all set to go. Our ADR was at 8:20 AM and just after 7:30 AM we headed downstairs and summoned a Minnie Van.

It took all of 6 minutes for our driver to meet us out front of the Wilderness Lodge. She greeted us warmly and asked if we wanted to take any pictures which, of course, we did. She even propped open the doors and posed us for a really cute photo op. It makes me wonder if cast members at all levels get basic training in the importance of user generated social media content. Then we loaded up and headed off for the Magic Kingdom. As it was out first Minnie Van ride, our driver explained all of the available perks including but not limited to: phone chargers, multi-resort pickups, car seat availability and even late night McDonald's runs! The interior was clean and spacious and there was even a Wilderness Lodge specific soundtrack playing that transitioned to a Magic Kingdom score as we arrived. The entire trip took 7 minutes and cost $23.21 (before tip). Since we were splitting the cost between two people, $11 and change seemed like a pretty good deal for a direct, private ride to the Magic Kingdom, a trip that would have taken twice as long on a bus making multiple resort stops.
Minnie Van Trip 02 & 03:
The next day we actually used the Minnie Van service twice. We slept in a little bit and took advantage of the complimentary breakfast in the Old Faithful Club lounge before heading off to Hollywood Studios to check out Toy Story Land. Once again, our Minnie Van's arrival was prompt and our driver warm and friendly. This time our Wilderness Lodge score transitioned to Star Wars music as we approached Hollywood Studios. Our driver gave us some tips for getting high scores on Toy Story Mania and talked about the construction of Star Wars Galaxy's Edge and expected opening days. If he had any secret insider info on the subject he wasn't giving anything away, hard as I tried. This ride took 15 minutes and cost $31.93 (before tip). Obviously, Hollywood Studios is farther away from our resort than the Magic Kingdom, but there was also construction occuring for the Skyliner gondola system that has created a few parking-related delays, which our driver explained to us as we arrived. So an additional bonus feature for Minnie Vans right now is that they get to park a lot closer to the Hollywood Studios entrance than the buses do. Once again, the ride took half the time it usually takes to get there by bus.

We returned to our resort for snacks and a rest late in the afternoon and took another Minnie Van back to Hollywood Studios for FastPass+ viewing of Fantasmic! The trip took exactly the same amount of time and cost almost exactly the same, just a $.10 difference.
Minnie Van Trip 04:
We actually skipped the Minnie Van service on our third day because we were heading to Epcot and you will never convince me that there is any better way to arrive in Epcot than the monorail.

So our 4th Minnie Van trip took place on our final day as we headed off to the Animal Kingdom. Everyone knows this park is the farthest away from everything else, so it was obviously the most expensive ride, totaling $39.44 (before tip). However, guess what? Once gain – half the time it typically takes to get to this park. This was also one of our most interesting driver conversations because our driver used to work as a zookeeper in the Animal Kingdom. She talked about working with her favorite animals and shared a little info on cast member training. We had been asked multiple times during our trip, for no reason we could figure out, if we were cast members so that's why were asking about the topic. Turns out it was probably our monogrammed ears. While we both own multiple sets of the newer headband varieties, we still love to wear our classic monogrammed ears to the Magic Kingdom. After cast members complete one of their training courses they are given a set of monogrammed ears. Now I love my classic ears even more! Anyway, back to Minnie Vans.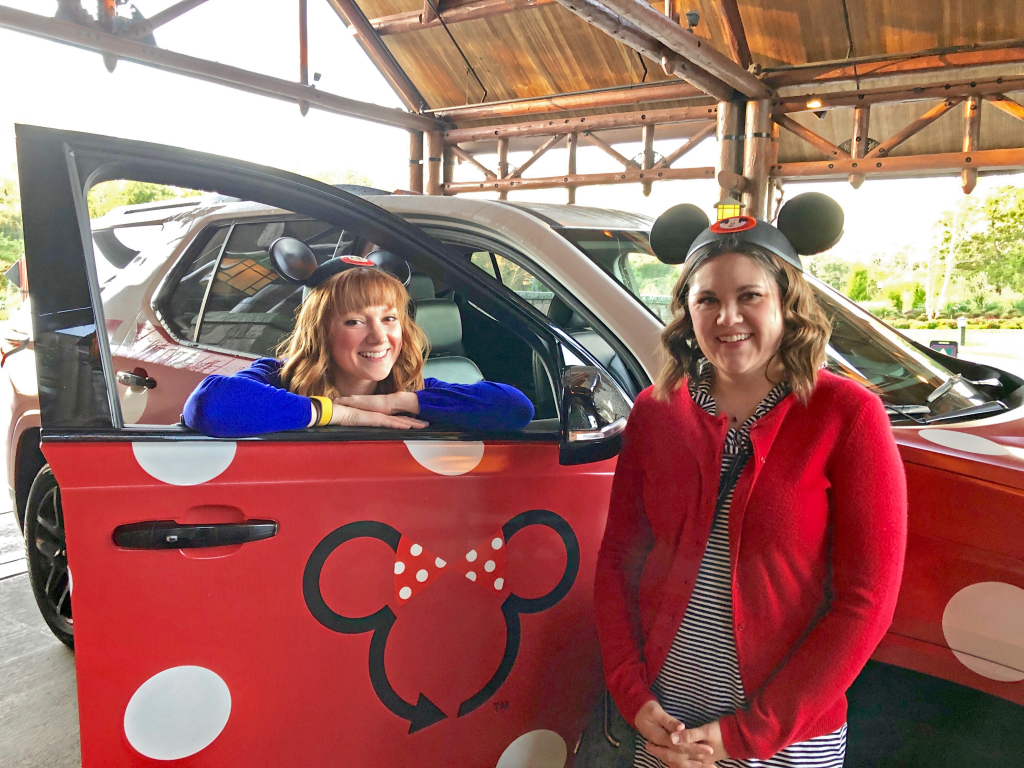 Was the Perk Worth the Price?
Dr. Robinson and I definitely thought it was worth the price. Now, yes, we did have the advantage of knowing we were splitting the cost between two people, but I think I would still pay for a Minnie Van on my own. Here's why. I know some of you are saying "If you only want to cut down on your travel time, you could always just take a regular Lyft for a much lower cost." You are not wrong however, regular Lyft drivers can only take you as far as the parking lots when travelling to parks. Minnie Vans have a designated drop off and pick up point at the bus stops. So I would consider that the compromise option – you get the perk of a private ride that saves you a little bit of time, but you still have to allow for time to walk or catch a tram from the parking lot. There's also no guaranteed phone chargers or car seats. And honestly, a regular Lyft ride lacks the magical ambiance of Disney and just kind of takes you out of the moment.

On the same trip, we spent $150 + tax each to try out the VIP FastPass+ program and I truly think that Minnie Vans were a better use of our money. Both are about paying for convenience but it all comes down to how do you like to do Disney? The extra Fast Passes made me feel rushed, while the Minnie Vans gave me a private respite away from crowds without losing any Disney magic.
I'll definitely be using Minnie Vans again.