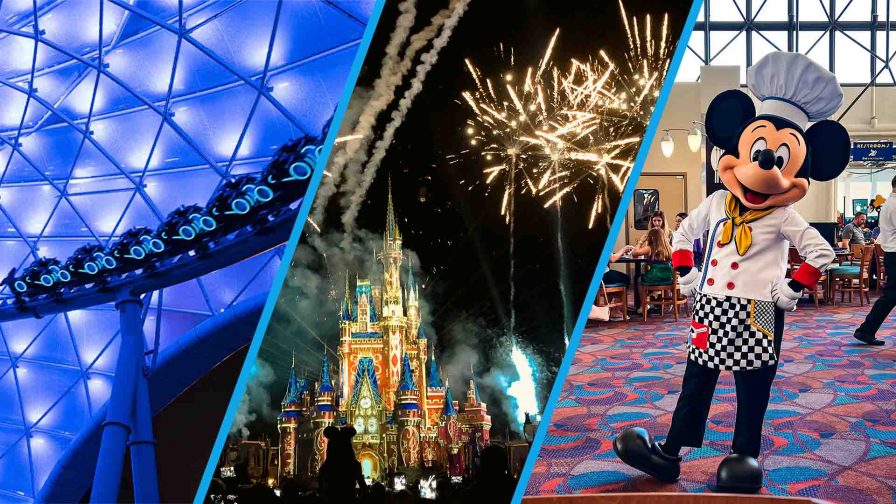 Is Your Head Spinning From All The Disney News Too?
Disney Parks updates have been dropping faster than a lightcycle race recently, and if you're anything like us, we could barely keep up with headlines. But not to worry! We've rounded up all of the highlights for you in one place so you don't have to venture further into The Grid for answers. (That was my last TRON pun, I promise.)
Disney Dining Promo Card
Disney announced a new dining deal launching this summer – the Disney Dining Promo Card. Essentially, it's a gift card that you can only use at restaurants in Disney parks, resorts, and Disney Springs. Guests planning to visit this summer can get up to $750 on a Disney Dining Promo Card when booking a 5-night, 4-day Walt Disney Travel Company room and ticket package at select Disney Resort hotels. This option is available to those who book stays between June 25th to September 14th, 2023. You can read more about how it works here.
Happily Ever After Returns
This one is my personal favorite piece of Disney Parks news. Nighttime spectacular "Happily Ever After" is set to return to the Magic Kingdom on April 3, featuring all-new projections down Main Street, U.S.A.
Harmonious Retiring
In other Disney World nighttime spectacular news, an all-new nighttime spectacular is planned to debut at EPCOT later this year. Before the new show launches "EPCOT Forever" will return as an interim show over the skies of World Showcase Lagoon starting April 3.
TRON Lightcycle / Run Launch Date
After much beta testing and user interface tweaking, Disney finally announced a launch date for the long awaited TRON themed ride in Magic Kingdom. This program's execution date is scheduled for April 4. (I'm sorry. I can't help it. The programming references are just right there!)
Rumor has it that preview opportunities are coming for guests too, including Annual Passholders and eligible Disney Vacation Club Members, but we haven't seen any info released on that yet.
Free Parking
Overnight self-parking at Disney World Resort hotels is once again free. The introduction of the pay-to-park policy was one of former CEO Bob Chapek's least popular price hikes and is the latest changed rolled back by returning CEO Bob Iger.
Annual Passholder Park Reservation Requirements
Soon, Walt Disney World Annual Passholders will be able to visit the theme parks after 2 p.m. without needing a park reservation, except on Saturdays and Sundays at Magic Kingdom Park. Pass blockout dates will continue to apply like they do today. No word yet on what day this will go into effect.
Genie+ Photo Downloads
Beginning in the next few months, Disney World guests purchasing Disney Genie+ service will also receive digital downloads of their Disney PhotoPass attraction photos, taken in the park on the day of their purchase, at no additional charge. This is only for ride and attraction photos, not PhotoPass Photographer opportunities.
Disneyland Park Hopper Update
Beginning February 4, 2023, guests who enter a Disneyland Resort theme park with a Magic Key pass or a Park Hopper ticket may begin crossing over between the parks two hours earlier – starting at 11 a.m. PT! No word on if we can expect a similar change to Disney World Park Hopper restrictions.
Disneyland PhotoPass
Starting February 4, Disney PhotoPass digital photo downloads captured on any Disney PhotoPass available attraction during a park visit, will be complimentary for all ticketed park guests on the Disneyland app. This service is currently slated to last throughout the Disney100 celebration at the Disneyland Resort. It is unknown if the option will remain after that point in time.
Disneyland Magic Key Program
Disneyland Resort will make select Magic Key passes available for new sales from time to time throughout 2023 as pass inventory becomes available. Continue to check Disneyland.com/MagicKey for pass on sale dates and availability. Fingers crossed that this means that Disneyworld Annual Passes may go on sale again soon.