Review: Space 220 Restaurant
The Setting
Space 220 is one of Disney World's newest and most popular dining experiences. Located next to Mission Space, this restaurant offers the immersive experience of dining among the stars on an orbiting space station.
After you check in for your reservation at the outdoor information desk, you will be directed indoors to the Space 220 Departure Lounge. Once there, a cast member will give you a Space Elevator Boarding Pass. This is how Cast Members identify your party once you arrive at the space station. There is a waiting area with seating provided, but our wait time was no more than a few minutes. When your table is ready, a Cast Member will lead you into the space elevator and explain your imminent "blast off" to Centauri Space Station. This is where the immersive experience begins. When you elevator starts, look at the "viewport" in the floor to watch Mission: SPACE, then EPCOT, and all of Earth get smaller and smaller as you blast off into the atmosphere. Be sure to look up to for a view of the Centauri Space Station getting closer.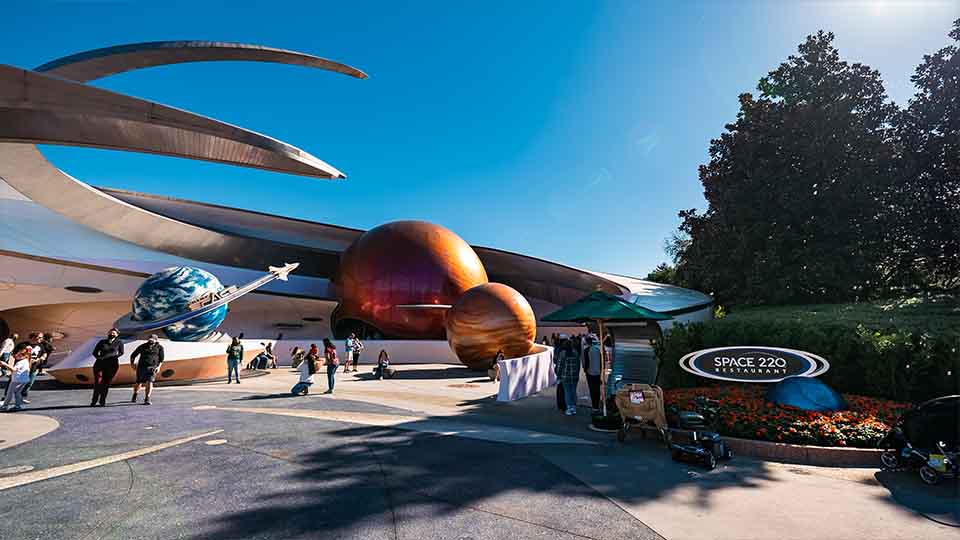 Upon your arrival at the space station, you'll be led through the space station corridors to the main dining area where you are met with an incredible view of space in every direction. The theming and atmosphere here are truly incredible. Seriously though, if you're a Star Trek fan like me, you will feel like you just stepped into Ten-Forward on the Enterprise. It doesn't matter if your reservation is for the lounge or the main dining room, this area and the views are accessible to guests in both areas.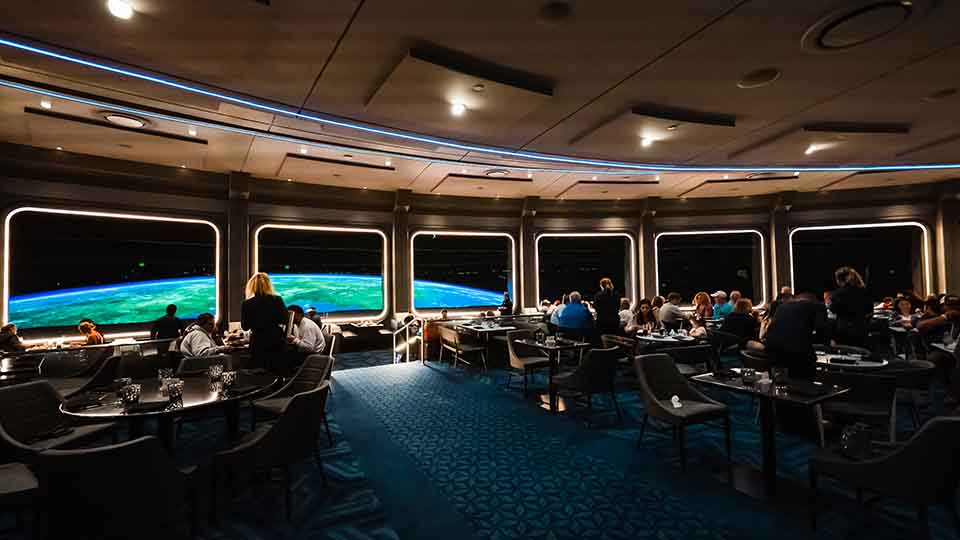 The Menu
The menu is prix fixe for both lunch and dinner. Prices are $55 for adults for lunch, $79 for adults for dinner, and $29 for kids for lunch and dinner. Lunch offers a 2-course meal at and a 3-course meal at dinner—both featuring modern American cuisine. If you are dining in the lounge however, there is an à la carte menu of appetizers.
Our reservation was for lunch so we each had Lift-Offs (appetizers) and a Star Course (entrée) paired with celestial themed cocktails. We had the Big Bang Burrata salad – Burrata di Mozzarella, Grilled Artichoke Hearts, Arugula, Sunflower Seed Romesco; and the Neptune Tartare – Yellowfin Tuna, Yuzu Ginger Miso, Soy, Avocado, Radish, Mango Coulis, Micro Greens, Sesame Crackers. Both dishes were light and delicious but the tartare was my personal favorite of the two. For entrées we ordered the Galactic Salmon – Glazed Carrots, Miatake Mushrooms, Baby Bok Choy, Ginger Beurre Blanc; and the Lobster Globe – Maine Lobster Salad, Quinoa, Bulgur Wheat, Avocado, Lettuce, Mango, Citrus Dressing and Crispy Wontons. The salmon was amazing and had a smokey cedar plank salmon flavor and has a fun tableside presentation. The Lobster globe is from the Space Station Supplemental menu which means that it comes with an additional charge on top of the prix fixe amount. Totally worth it – the lobster chunks were fresh and sweet, and the perfect follow up to the tuna tartare appetizer. And I mean, come on, look at it!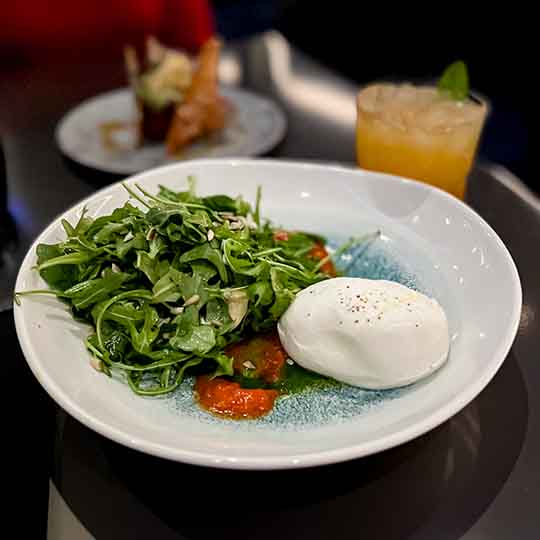 For cocktails we chose The Big Tang – Avion Silver, Grand Marnier, Tang-Infused Agave Nectar, Grapefruit, Strawberry, Served with Astronaut Ice Cream; and The Nebula – Maker's Mark, Pineapple, Honey, Passion Fruit, Angostura Bitters. Be advised that the astronaut ice cream is a tiny freeze dried ice cream sandwich and while sweet, does not have the ice cream texture that you are used to. Both were delicious.
Dessert is not included in the lunch prix fixe menu, but can be ordered as an à la carte addition. So obviously we went for it and split the Lemon Mousse – Lemon Mouse Sphere adorned with White Chocolate Rings and, Lemon Custard, Glazed Blueberries and Lemon Curd. The dish arrives looking like a sweet small planet and is very tart. I enjoyed the dish far more than my companion did though, so if you're only a mild citrus fan I would suggest trying something else. But again – just look at it! You're eating in space and dessert is a tiny white chocolate planet! Who could resist trying it?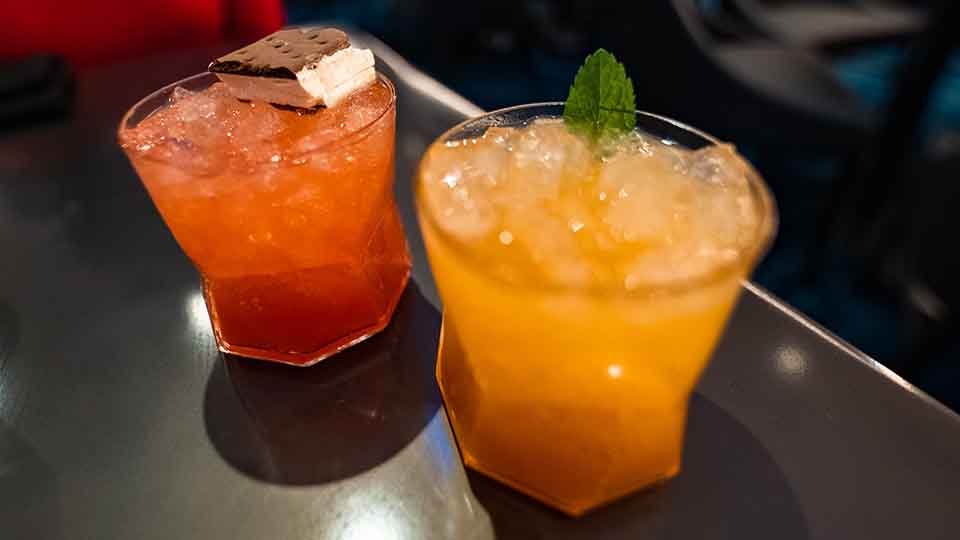 The Takeaway
As a life-long science fiction fan, I was shamelessly nerding out the entire time we were here. I may have even face-timed a few people from the table to gush over my 'Ten-Forward' lunch experience. This is definitely one of the most fully immersive dining experiences I've had in Disney World.
Now, I've seen some complaints that the menu is far too limited for the cost and that there aren't enough options for picky eaters, etc. so it comes down to a simple choice. Is your priority menu or experience? We enjoyed everything that we ordered, but if the menu is a little too 'out there' for your taste or if you don't want the prix fixe cost, consider a reservation for the Space 220 Lounge instead. You can enjoy the same menu of space themed drinks and most of the appetizer options while getting the full experience. Space 220 is an open concept restaurant and the lounge area looks directly over the main dining room. Lounge guests are free to explore the restaurant so you still get the full space station experience.
Theming aside, this restaurant is an excellent place to enjoy some quiet time with air conditioning in EPCOT. To maintain the illusion of being isolated in space, this restaurant is fully enclosed and I suspect even sound insulated, unlike many other EPCOT dining options so you're insulated from all of the park sights and sounds.
We fully enjoyed our experience and will definitely be going back!
Setup an alert today and let us help you find a table!
Space 220 Restaurant