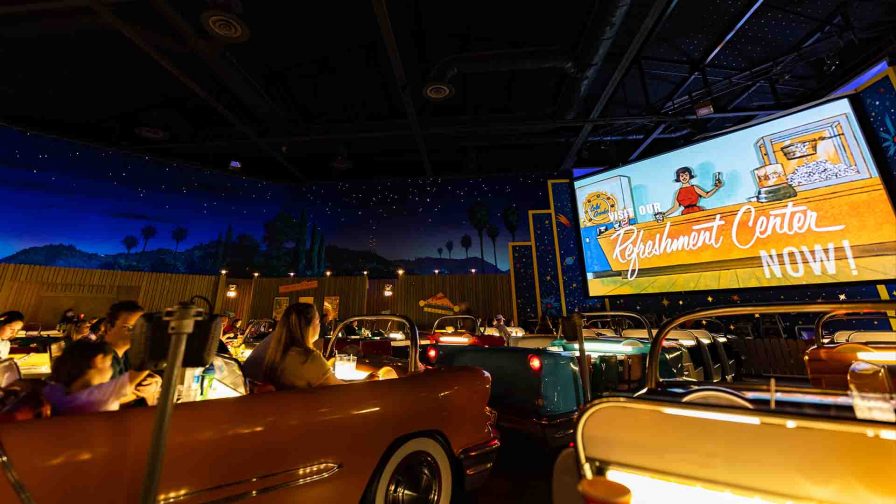 Review: Sci-Fi Dine-In Theater
The Hype
Sci-Fi Dine-In Restaurant has an almost cult level following. Like, people will fight you if you don't think it has the best burgers in Disney World. Full disclosure: I am not one of those people, and the burgers are not the best in Disney World. (Yeah, I said what I said.)
Sci-Fi Dine-In has it's fair share of haters as well. It is somehow one of the most polarizing Disney dining options. People love it or people hate it – there's not a lot of in between. I have a theory about why this is the case, but we'll get to that later.
It had been many years since we dined here and we heard there had been some menu changes in summer of 2022 so, when planning our most recent December trip we decided it was time to revisit Sci-Fi Dine-In Theater. Truth is that, other than the basic theme, we couldn't remember much about the experience. I setup alerts and booked the Fantasmic! Dining Package so it was a win-win.
First impressions – Not much has changed.
The Setting
Fun fact: what a lot of people don't notice that this is a theme-within-a-theme situation. A lot of the original design and atmosphere of Hollywood Studios was focused on making everything feel like an old Hollywood backlot experience. Since the Sci-Fi Dine-In Theater was one of the earliest restaurants to open back when the park was still Disney MGM Studios, it was no exception. When you enter the restaurant waiting area you'll see what looks like unfinished walls which are meant to be the backside of ply wall sets on a soundstage, but once your host brings you into the main restaurant area, you're "on set." The set you're on happens to be for a Hollywood Hills Drive-In Theater. There's rows of vintage 1950s style convertibles and movie screen showing clips from vintage B-movies and drive-in commercials, all underneath a painted night sky with twinkling fiber-optic lights.
Since you're supposed to be at a drive-in, it is pretty dark inside – lit mostly by the movie screen and the tail lights on the "automo-booths." It is also surprisingly pretty quiet. It's like the movie-time atmosphere subconsciously triggers everyone's need to use their 'inside voice.'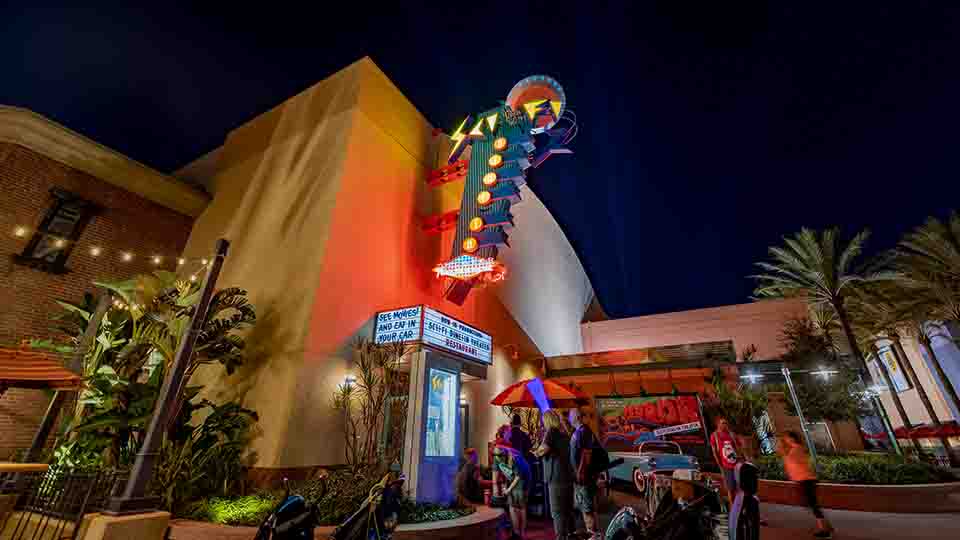 The Menu
You're at a drive-in, so as expected the menu is all classic Americana – burgers and fries, onion rings and milkshakes. But… there's salad now! I could definitely be wrong, but I don't recall salad being an option here before. The menu updates here seem to continue Disney's trend of providing lighter options while also downsizing and simplifying menus. As someone who gets overwhelmed by FOMO when looking at large menus, it's a trend I'm personally a fan of.
New additions include a ceasar salad, smoked wings, and a spinach artichoke appetizer options; a grilled chicken citrus salad entrée and a former featured burger – the Pork on Pork Burger – being added as a permanent option; and two new dessert options – a pineapple mouse and a white chocolate blueberry cheesecake.
I've seen complaints that there are now fewer options being offered for milkshakes, but honestly who needs more than a vanilla or chocolate milkshake with their burger, am I right?
Since I was dining under the Fantasmic! Dining Package, my meal was pre-paid and included an entrée, non-alcoholic beverage, and appetizer or dessert.
I went with the Fried Dill Pickles for my appetizer and Classic American Burger as my entrée. Even though Sci-Fi Dine-In Theater offers various wines, beers and cocktails, I stuck with the prepaid non-alcoholic option and kept it simple with a Diet Coke instead of a milkshake. (I had an Oga's Cantina reservation coming up so I wanted to pace myself on booze and sugar.)
The burger was good. It had a nice char-grilled flavor to it but was closer to 'medium well' than the 'medium' cook that I ordered. The fried pickles had a surprising kick to them. They're not listed as anything spicy so maybe there's just a lot of pepper in the batter? At the time I told myself that I should order the classic burger to know where the bar was set on the burger deliciousness scale. But… I kind of regret not going with the Drive-in BBQ Burger because it sounds way better. (Signature-blend of Beef and House-made Seasoning served on a Brioche Bun topped with 9-hour Smoked Pork, Bourbon-Bacon Jam, Cheddar, Lettuce, and Barbecue Sauce) So, lesson learned and next time for me it's the BBQ burger and a chocolate milkshake.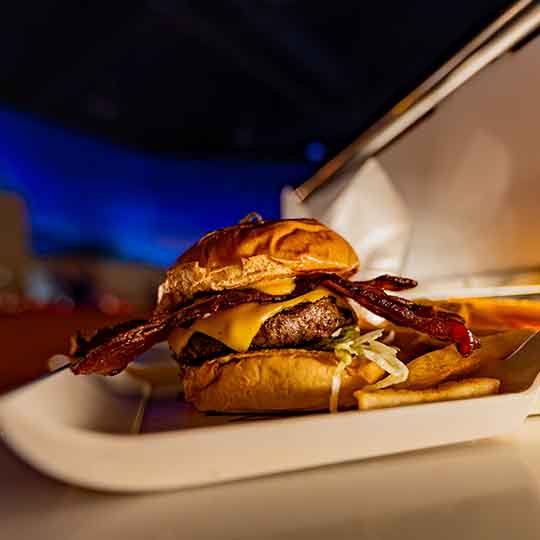 The Takeaway
Here come the hard truths for the haters. Do your homework and manage your expectations. Pretty sure that the people who hate Sci-Fi Dine-In Theater suffered from having unrealistic expectations that come from not reading up on what the restaurant offers.
Common complaints I see are about the seating and food quality/limited menu.
Let's start with seating. The "automo-booths" seat 4-6 guests in the form of 2-seat rows all facing forward. So if you're expecting to hold a steady conversation with your family while dining you will find it difficult. On the other hand, a lot of people point out that it's a great way to take a little social break, decompress and enjoy some air conditioning. (I'm one of those people – FYI.) Remember, the experience is meant to be a family watching a movie while they eat.
Now, there are picnic tables at the back of the "drive-in" for larger parties with standard seating arrangements. But this presents it's own issue for those who don't do their homework. They show up with a large group and are upset that their party of 8+ is not being seated in a car. To these individuals I suggest that you look for your kitschy mid-century dining experience at 50's Prime Time Cafe instead. As someone who often ends up dining solo while in Disney Parks I was pretty happy about sitting on the back row of a 6-row car and just blending in.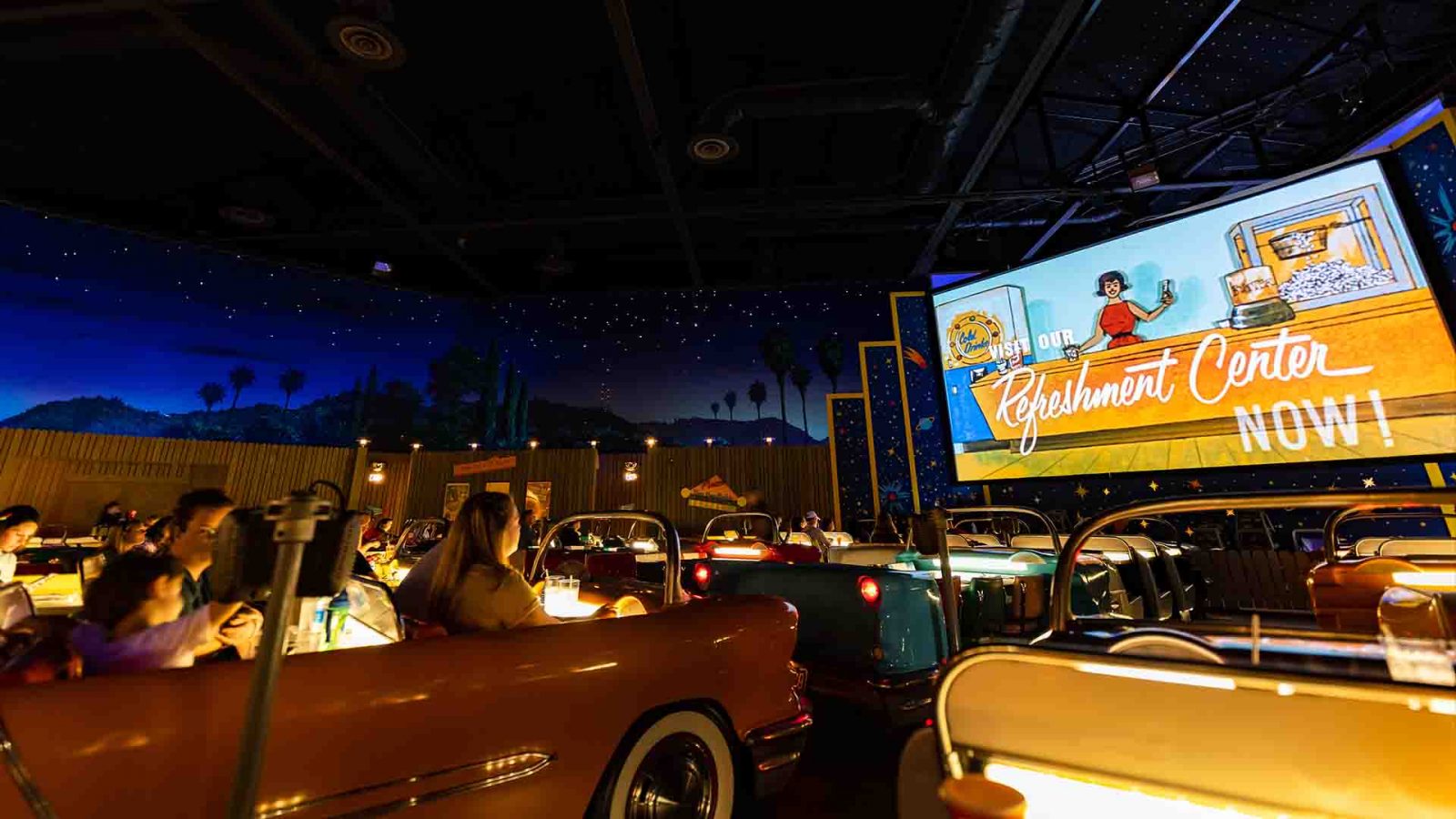 Now to the food complaints. Did I enjoy my meal? Yes. My burger was well cooked and tasty. Will it make it into my list of 'top 10 things to eat in Disney?' No. I'm happy to see Disney tinkering with the menu here though. I think continuing to improve the options will definitely appease some of the folks who have written this place off as unimpressive.
Final Thoughts:
Hollywood Studios still struggles to provide dining options at the same level as the other parks, but I think that Sci-Fi Dine-In Theater continues to be a solid option. If you like a little kitsch and a milkshake or just want a kind of quiet spot with some AC during your Hollywood Studios day, definitely give Sci-Fi Dine-In Theater a shot. If you're a hard-core foodie or you won't enjoy your party being split up in two seat rows then you should probably skip this one and try 50's Prime Time Cafe instead.
Good news is, we can help you find a reservation at both!
Sci-Fi Dine-In Theater
Fantasmic! Dining Package – Sci-Fi Dine-In
50's Prime Time Café