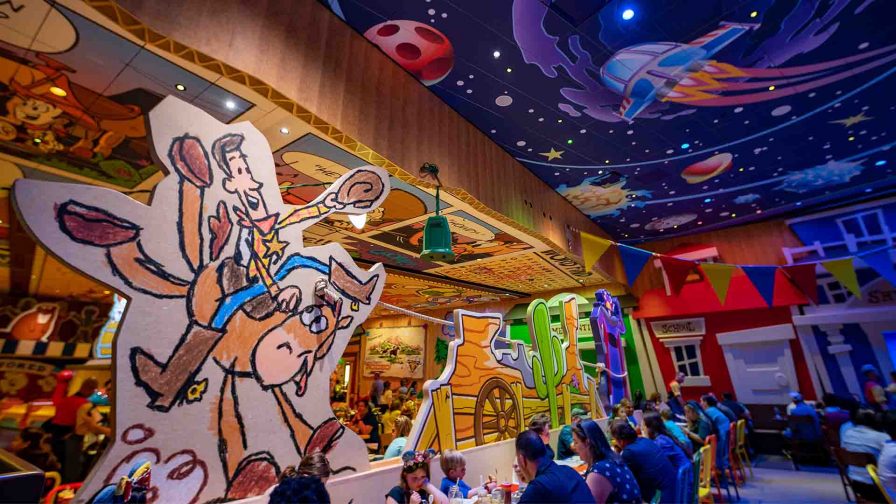 Review: Roundup Rodeo BBQ
Hey Howdy Hey! We stopped by Roundup Rodeo BBQ on opening day or "unboxing day" as the cast members called it and there's a lot to talk about. So no lollygagging, let's jump straight into it.
The Setting
Roundup Rodeo BBQ is a brand new table service dining option in Hollywood Studios. We've all been waiting for this one for a while now, since it was first announced in April of 2019. You'll find the restaurant near the main entrance to Toy Story Land, just past where Sheriff Woody welcomes guests into Andy's backyard. You'll see Sarge keeping watch for Andy near the marquee sign and check-in.
Once you check in for your reservation, there's a small outdoor area where you wait for your party to be called. Sadly, just like everywhere else in Toy Story Land, there's not a lot of shade to be found here.
When your table is ready a cast member will announce that "The Claw has selected the <insert your name> party." Since all park guests in Toy Story Land are considered honorary toys, before heading inside the cast member lets you know that Sarge is on the lookout for Andy so he can warn all of the toys if Andy comes back.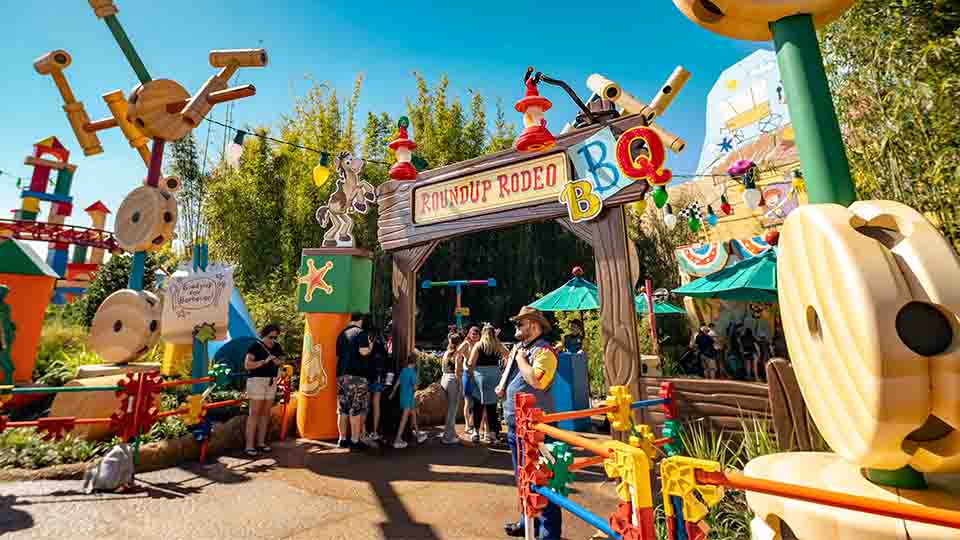 The story behind the Roundup Rodeo BBQ restaurant is that Andy has created a new rodeo arena for all of his favorite toys, using cardboard & crayons, game pieces, stickers etc. – pretty much anything a kid can use for crafting. If you've been on Toy Story Mania you'll have a pretty good idea of what the restaurant style is.
Andy has setup a different rodeo scene in each dining area so you'll see Jessie and Trixie front and center in the first room, and then Bo Peep and her sheep performing in the next room.
There's so much going on visually in the space that it can be a little overwhelming, but be sure to look around for all of the easter eggs and fun details.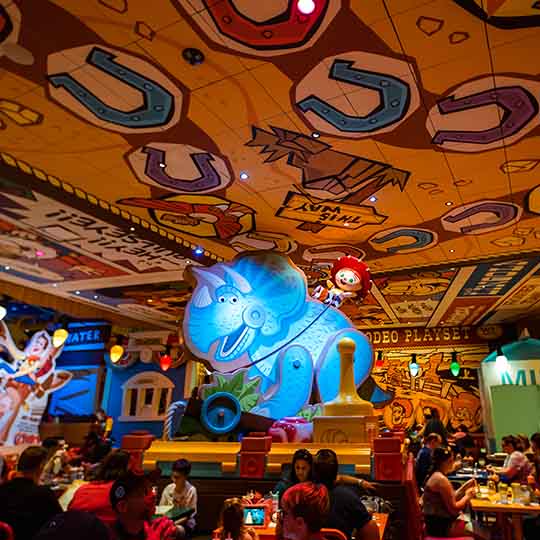 This is not a character dining experience which feels like a missed opportunity. However there several audio based character moments. Pre-recorded audio prompts servers and guests to respond in certain ways. I don't want to spoil them all but there's a fun "Party-Saurus-Tex" moment and, most notably, Sarge will warn you that Andy's coming and then everyone freezes till he gives the all clear. It's kind of nice because since this restaurant is like 95% solid surfaces so it's pretty loud and this is the only time the entire restaurant will be quiet.
The Menu
Full disclosure: I'm a southern gal and we take our BBQ seriously. Every corner of the south has it's own strong opinions on flavor though – Sweet vs Spicy, Sugar vs Vinegar, Dry vs Wet, etc. BUT… Roundup Rodeo BBQ is not meant to be any kind of regional BBQ – it's backyard BBQ. So the menu is meant to evoke feelings of family-style potlucks in the summertime.
Your server will give you the "instruction manual" or "operating instructions" – called a menu everywhere else but remember, you're a new toy. Continuing Disney's latest dining trend, this is a modified prix fixe menu, meaning it's pre-paid and you only have a few choices. This meal comes in at $45 per adult and $25 per child (ages 3-9) — same pricing for lunch or dinner.
Every meal starts with The Prospector's Homemade Cheddar Biscuits with Sweet Pepper Jelly, Rootin' Tootin Tomato Salad, Rex's Romaine and Kale Salad, Wheezy's Watermelon Salad. I was really hoping for some good homemade style biscuits but they were kind of dry and disappointing. The pepper jelly helped a lot and is actually surprisingly good. The romaine and kale salad was fine. Kale is kale so… eh. The tomato salad was very nice, well dressed and tasty. The watermelon salad was the winner of the starter round for me. It's so simple – just watermelon and mint but it was just perfect and immediately took me back to every summer cookout I went to as a kid.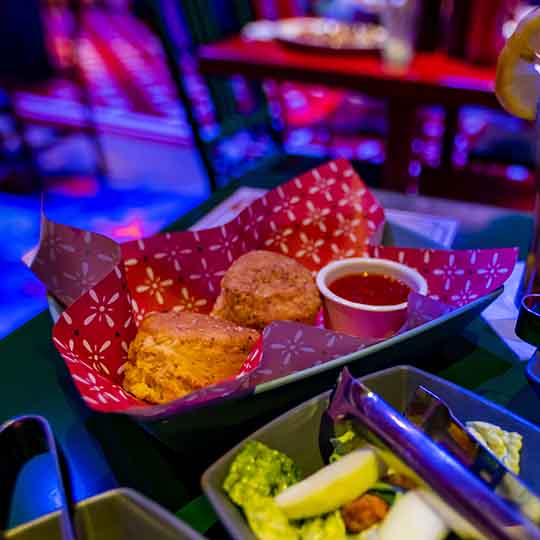 After the starters you can choose between the platter of house-smoked meats or the plant-based trio. Disney has wisely chosen to have three sauce options on every table to appease all regional BBQ flavor profiles. I went with the smoked meats platter with comes with Evil Dr. Smoked Ribs, Buttercup's Beef Brisket, There's a Sausage in my Boot, Fire-grilled Pork Sausage, and BBQ Chicken. The sausages were all good- not amazing but tasty. The 'There's a Sausage in my Boot' is cute though. It's a sausage coiled up on a skewer to look like a snake. (The one and only time I'll ever say a snake is cute.) The brisket was really good – definitely a solid second place winner from the platter. The chicken was kind of amazing. It was smokey, tender and juicy – just perfect. The ribs were a disappointment. They were dry and chewy no matter how much sauce you put on them. Thumbs down. So a 4 out of 5 for the smoked meats platter.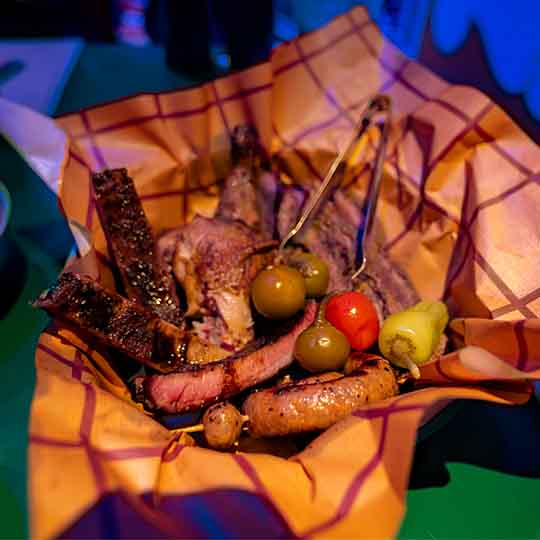 There are eight side dish options and every table gets to choose four – no matter how many people are at the table. So, me myself and I had to order four side dishes. I chose the Mean Old Potato Salad, Veggie Slaw, Buckin' Baked Beans, and Cowpoke Corn on the Cob. I probably would have ordered the Force Field Fried Pickles because I love a good fried pickle, but I knew from the preview photos that these were pickle spheres and not chips which is just sad, soggy, and wrong.
Side dishes were a solid 4 out of 5. The only one that I was disappointed by was the slaw. I'm sorry, I'm a southern woman and you put mayo in slaw. The baked beans were really good and surprising as well. They are 100% plant based. Traditionally baked beans are made with bacon or another pork product for flavor but these are made with smoked jackfruit instead. I would honestly never have noticed if the server hadn't pointed it out to me. The star of the side dish show for me though was the corn on the cob. It's a grilled street corn preparation and it was delicious.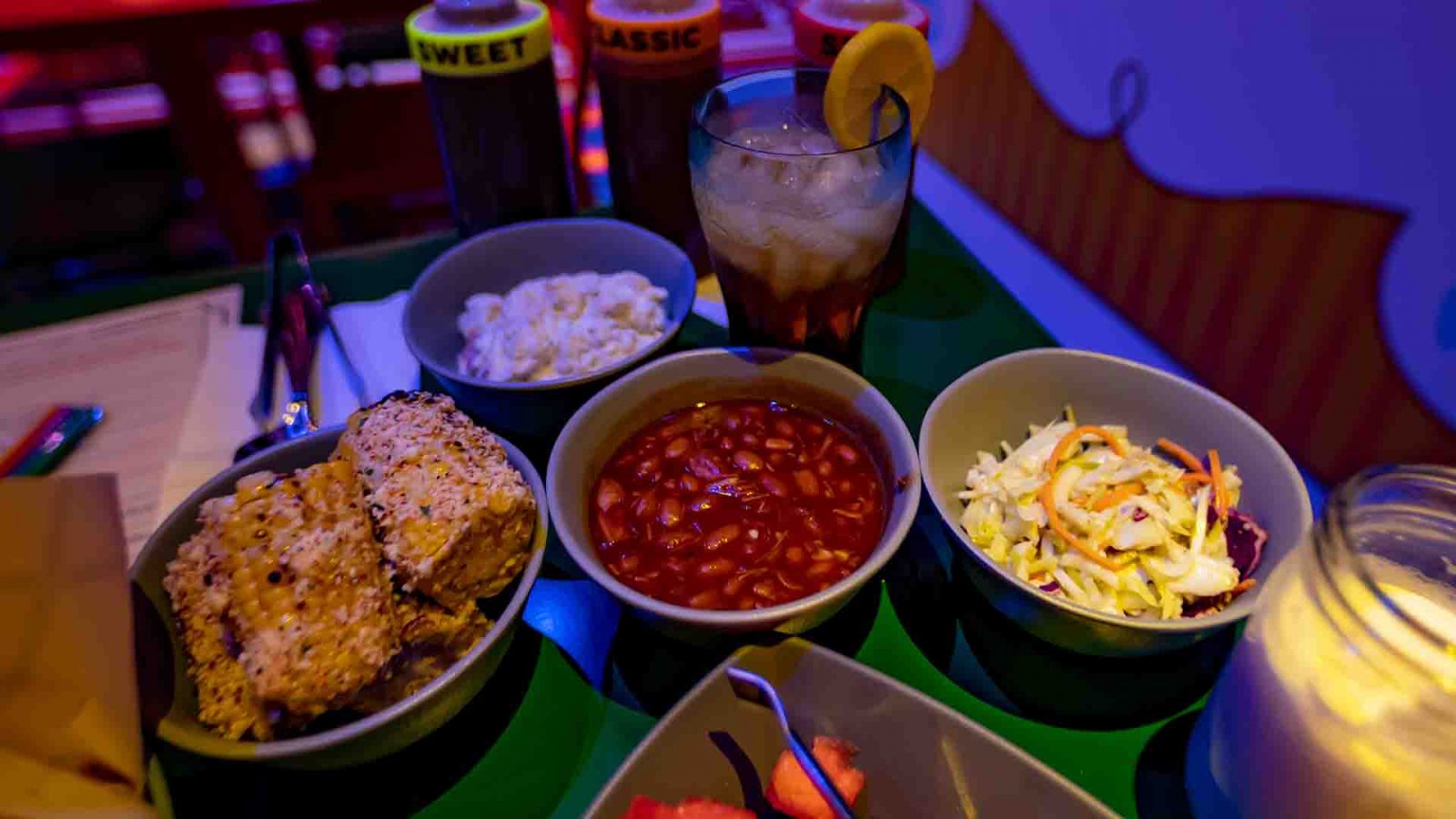 Then it's time for the Chuckwagon Desserts – thankfully only one per guest. The options are all pie in a mason jar variations except for the Cupcake à la Forky which is a chocolate cupcake with graham cracker buttercream frosting and a sugar cooky decorated like the character Forky. I went with the cupcake because it's just adorable and as my server said "this is the one and only time it is totally okay to eat trash." It was a solidly tasty cupcake but I suspect that any of the pie jar options are probably even tastier.
Drinks! I almost forgot to talk about drinks. The prix fixe menu comes with a non-alcoholic drink option including fountain drinks, iced teas and milk options for the kids.
The signature beverage offered is an unsweetened peach iced tea and it was delicious. It reminded me of the flavored teas you get at Sonic, which I'm a big fan of. There's some kid friendly specialty drinks and a grown-up menu of beer, wine and specialty cocktails. I went with the Grown-up's Peanut Butter & Jelly which is frozen Skrewball Peanut Butter Whiskey, Minute Maid® Vanilla Smoothie Mix, and Grape Jelly. It is DANGEROUSLY delicious. Soooo good! I think it might be my new favorite Disney adult beverage. It comes in a jar with the grape jelly layered on the bottom so when you drink it with the provided straw it's kind of a boba tea texture experience.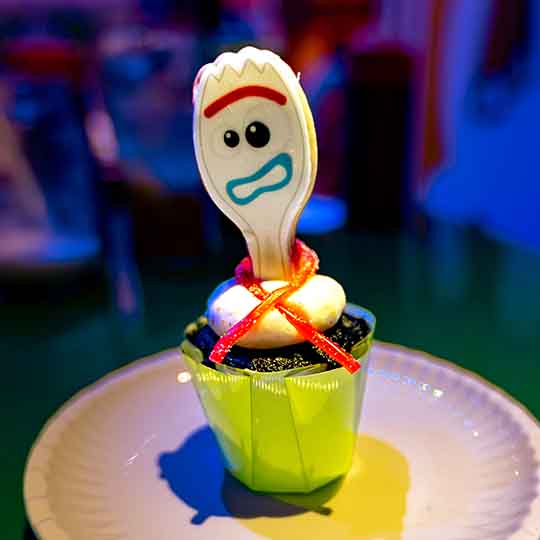 The Takeaway
While I still wish they had just built Pizza Planet, this is an excellent new dining option for Hollywood Studios. The backyard style BBQ instead of a specific regional type of BBQ keeps it from feeling like you're just eating at a Chili's or Applebee's. And while it's not a character meal I think it's a better option than Hollywood & Vine for both food and atmosphere. Seriously though, why is this not a character meal? It really feels like a missed opportunity. Hollywood Studios desperately needs breakfast options so maybe this would be a good one for Disney to consider adding in the future.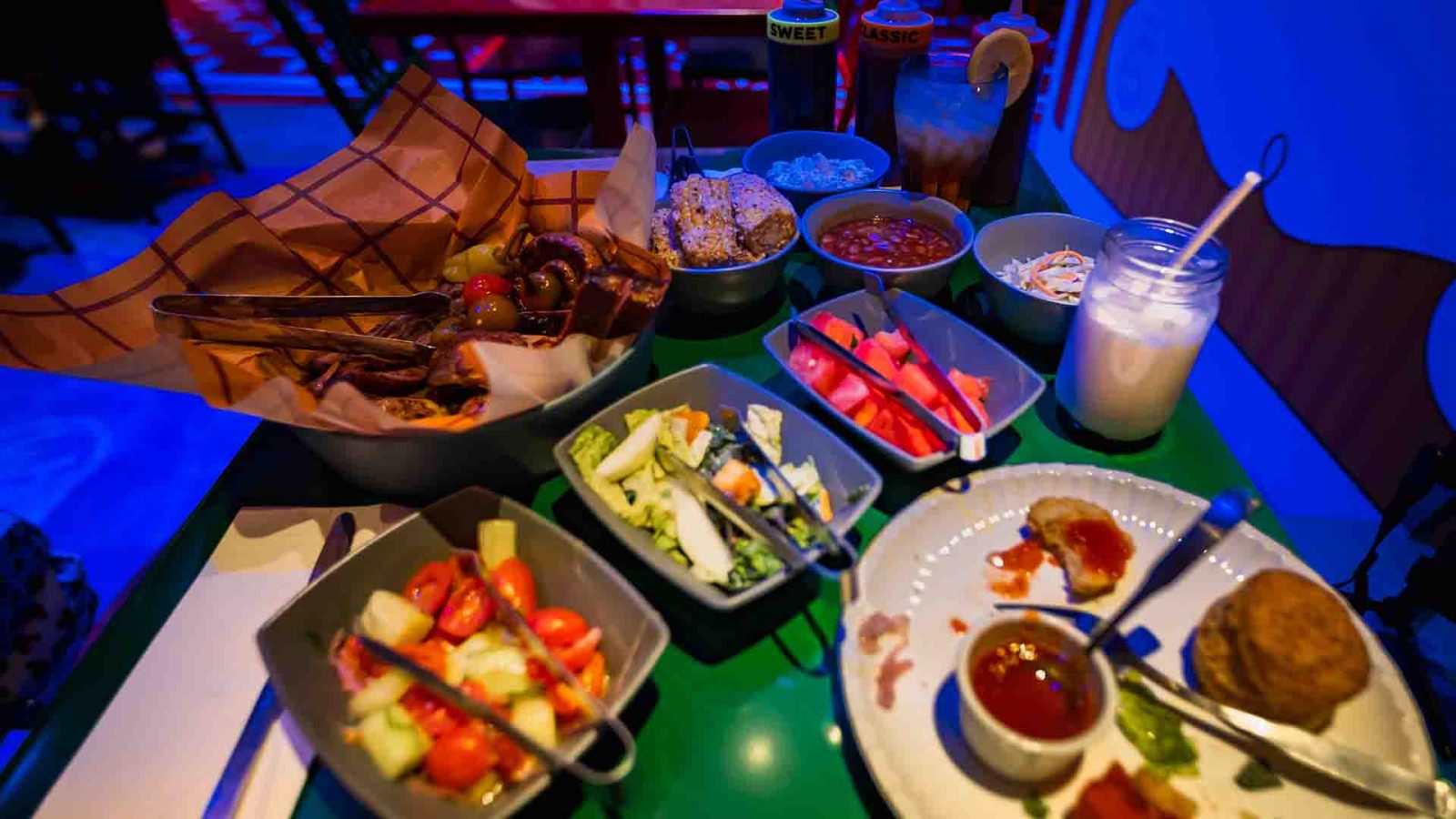 The only problem I have with Roundup Rodeo is the ridiculous amount of food. The portion sizes are the same, no matter the size of the party. Every table has to choose four side dishes – no matter how many people are at the table. So, me myself and I were served a biscuit basket, 3 salads, 4 side dishes, full size platter of 5 different meats, and a dessert. It's a ridiculous amount of food for anything less than 4-6 people so I hope that in the future maybe they'll have a modified portion amount for solo diners and small parties. An embarrassing amount of food went to waste from my meal alone.
Pretty much everything was really tasty and the atmosphere is incredibly detailed and fun. The portion sizes of the prix fixe offering need a little tweaking but most new restaurants go through some minor menu adjustments after they open. It's pretty noisy and there's a lot of chaotic energy – similar to dining at Chef Mickey's but it's still really fun.
Final Thoughts:
Order the Grown-up's Peanut Butter & Jelly. Seriously.