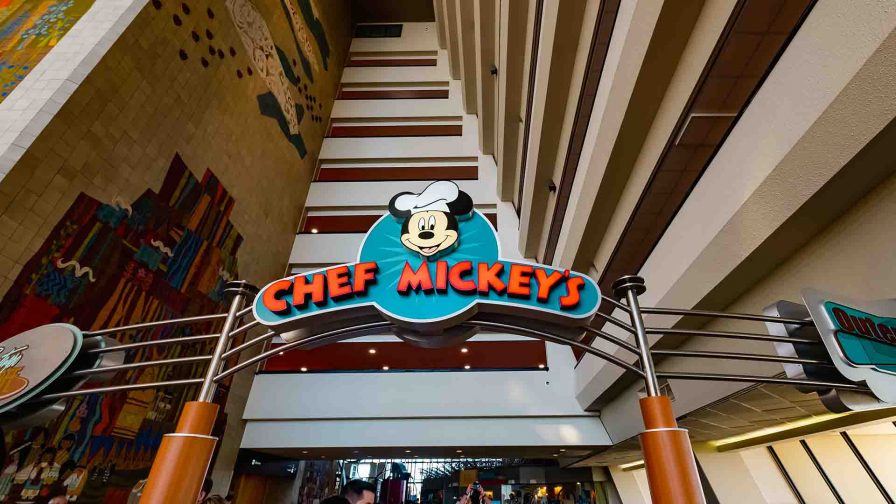 Review: Chef Mickey's Character Breakfast
Chef Mickey's is definitely one of, if not the, oldest character dining experience at Walt Disney World, and these days people seem to have a love-hate relationship with it. I have a working theory as to why it gets mixed reviews, which I'll come back to later.
The Setting
Located in the Grand Canyon Concourse area of Disney's Contemporary Resort, this is an excellent pre-park day breakfast option, putting you just a short walk or a monorail ride from the Magic Kingdom. Chef Mickey's is home to the 'Fab Five' – Mickey, Minnie, Donald, Goofy and Pluto. Being one of the very few places you can find and interact with all of these characters is definitely a reason this dining experience remains popular, despite mixed reviews.
Mickey and pals made their rounds frequently throughout our meal providing multiple photo opportunities. We saw each character 2-3 times during our meal, plus their "Biscuits in the Oven" dance break.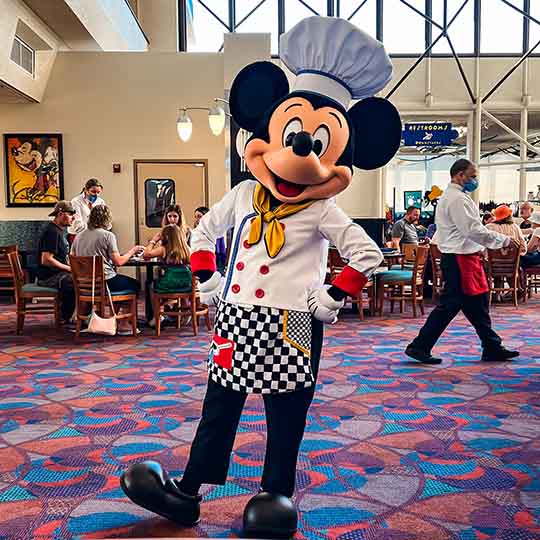 The restaurant has a partially 'open air' design with two seating areas at the front that let you watch the monorail come and go through the resort. And if you're lucky enough to get a table by the windows there's a pretty partial view of the Magic Kingdom as well. The other two dining areas are in their own rooms at the back of the restaurant. The design and décor has a very 'Pop Art a la 90's' vibe going.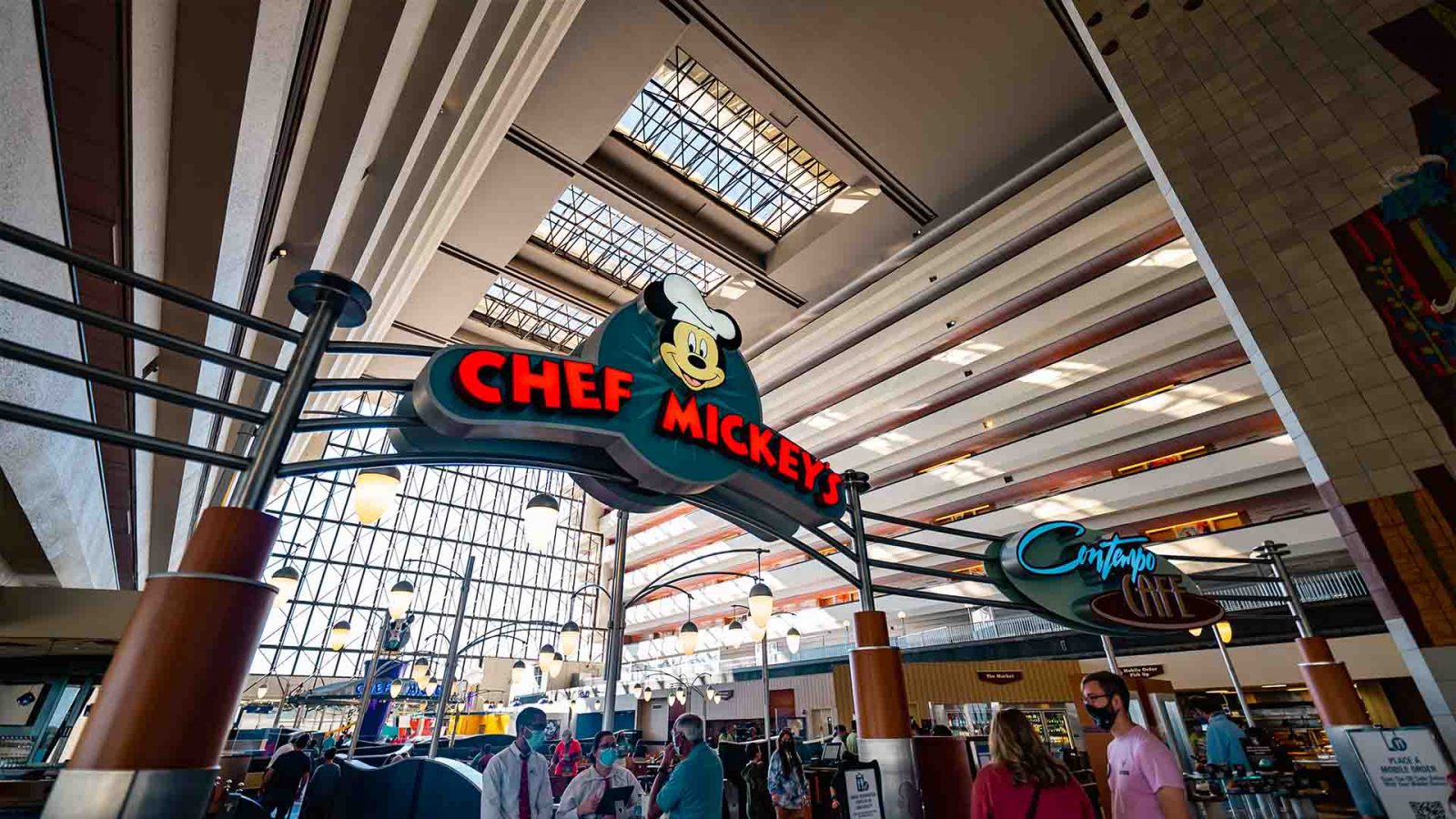 The Menu
Chef Mickey's used to be a buffet service, but since reopening in 2021 as a modified character dining experience it has offered an "all-you-care-to-eat, family-style meal." This includes various pastries, fruits and yogurt, scrambled eggs, smoked bacon, beef brisket, Mickey waffles and a new collection of Chef Mickey's signature entrées—including banana bread french toast, "loaded" potato-cheese casserole and the "celebration" Mickey pancake.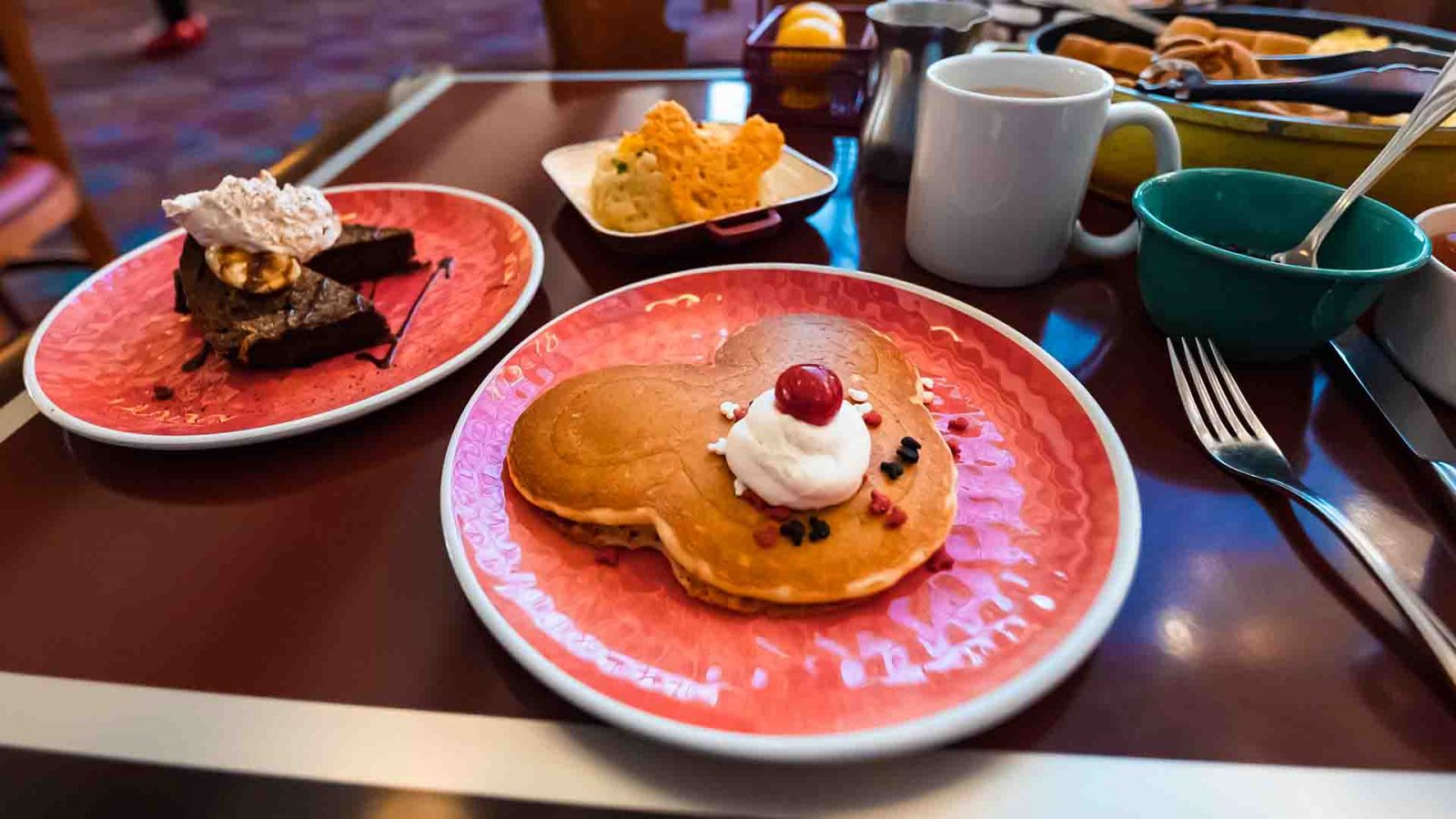 Why All The Hate?
Here's my theory on why some people are dissing Chef Mickey's.
Firstly, this is not a cozy, quiet breakfast spot. Between the sights and sounds of a busy resort, monorails coming and going, and kids excited about characters, this is a high energy dining experience. I think this may be a factor in why a lot of people don't seem to always enjoy their dining experience here.
Secondly, newer experiences like Story Book Dining at Artist Point, Be Our Guest, and Topolino's Terrace have raised the bar for menu expectations at character meals. Most of the negative reviews I see mention the food quality with comments like "nothing special" or "not worth the money." We enjoyed our meal! The bacon was crispy, the waffles and pancakes were fluffy, and the potato cheese casserole was very tasty. Was any of it amazing or mind blowing? No. Although that cheesy potato casserole was definitely the standout.
Here's the thing – the food is not bad, the menu is simply generic. Remember that this is listed as a 'Character Dining Experience' not a 'Signature Dining Experience' so you're definitely paying for the experience of character interactions, not a signature chef's dish.
The Takeaway
We enjoyed our breakfast experience here. The service was good, the food was good and the Fab Five were as entertaining as ever. It's not my favorite character meal, but it's definitely a classic that I was finally able to cross off my bucket list. We were staying at the Contemporary Resort on this trip so it was really convenient to just head downstairs for breakfast with Mickey and friends, then walk right next door to the Magic Kingdom.
Final thoughts: If you're staying at one of the resorts on the monorail loop, I would definitely recommend this as a great character meal option before a day in the Magic Kingdom. But if you're a family of serious foodies or prefer a quieter start to your day, this is probably not the character meal for you. All things considered, I think Chef Mickey's will definitely continue to be a popular character meal, especially with younger kids, and as long as you manage your expectations going in, you will enjoy your experience as much as we did.
Setup an alert today and let us help you find a table!
Chef Mickey's