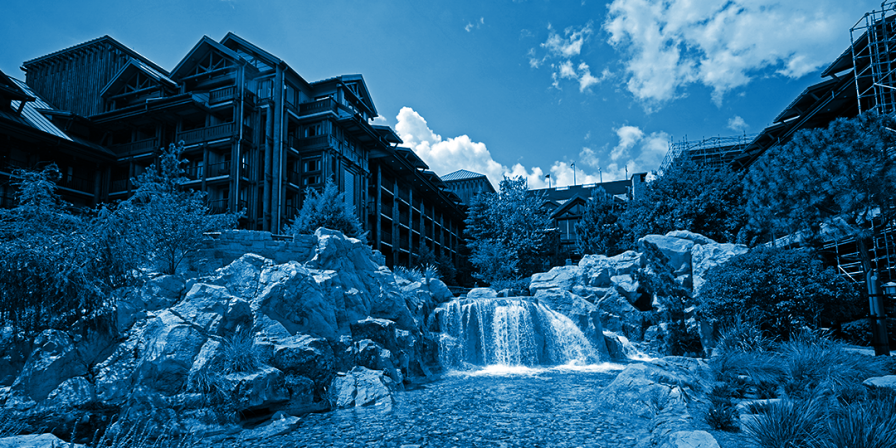 Paying for Perks: Part 1 – The Club Level Experience
I've always been a fan of vacation splurges, so for this trip Dr. Robinson and I decided that we would focus on new experiences – including paying for some extra Disney perks.

Since this was going to be a short trip – only 3 full days of park time – we decided that it would be worth the splurge to pay for some of the new perks that Disney World has to offer. So I booked our first ever Club Level stay.

We decided to go with Disney's Wilderness Lodge for a few reasons. Number one, Dr. Robinson has never stayed there and this trip was all about new experiences. Number two, it's one the more affordable option of the Magic Kingdom Deluxe Resorts. We agreed that since we'd be giving up the usual convenience of monorail access, this would also be the trip where we finally try out the Minnie Van service. Booking a Club Level stay also gave us the chance to take advantage of a pilot program I had read about which lets you purchase extra Fast Passes.

There's a lot to breakdown so I'll be covering each of these perks individually in a 3-part blog series, starting with the experience of a club level stay.
Welcome Home:

Fun Fact: There are no good times to fly out of central Arkansas. No good time of year. No good time of week. No good time of day. The only options are 'Terrible Time' and 'Really Terrible Time'. We chose 'Really Terrible Time' which put us at the airport at 4:30 AM. But Disney Magic is worth it, right? Seven hours and one connecting flight later we are on board the Magical Express headed home to Disney's Wilderness Lodge.

The Club Level perks literally begin at the door. Upon our arrival we were greeted by a cast member named Rebecca holding a sign with our names on it who escorted us straight up to the 'Old Faithful Club'. She gave us a tour of the lounge area, made us a couple of delicious cocktails and introduced us to the concierge who proceeded to get us checked in and explained all of the club level available amenities. Our room wasn't quite ready yet so we spent few minutes exploring the lounge and enjoying our drinks before heading out to the parks.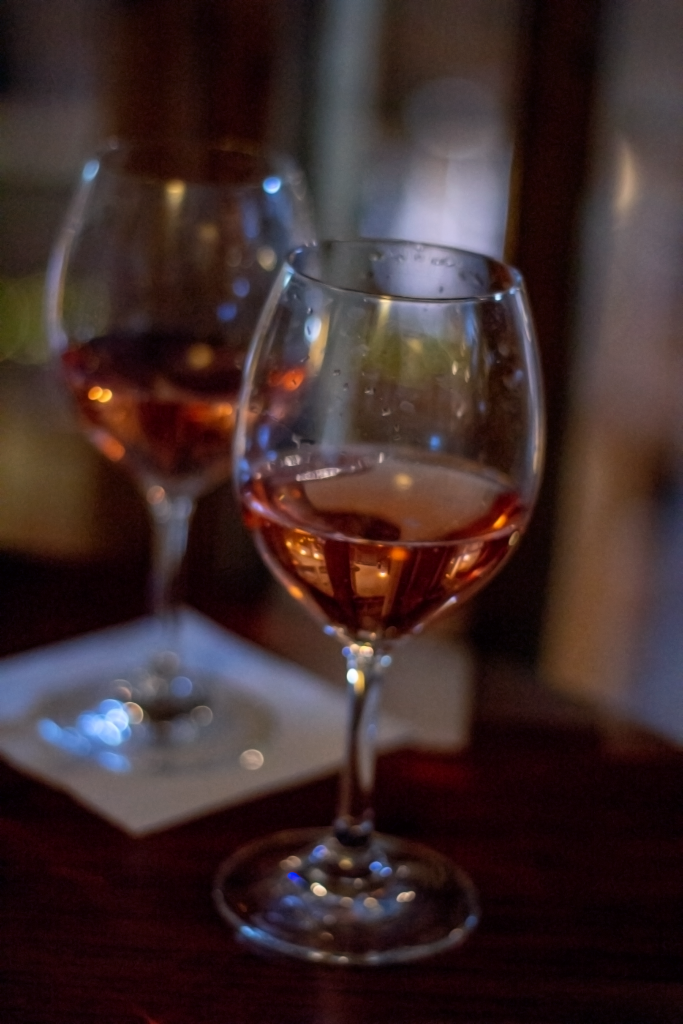 The Old Faithful Club and is located on the seventh floor and while you no longer need key card/magic band access for the elevator, you will need to swipe your magic band for entry into the gated lounge area. Inside the Old Faithful Club lounge you'll find comfortable seating areas, multiple TVs – one is just for the kids with Disney cartoons playing, and complimentary food and drinks throughout the day and night.
Breakfast 7am-10am – Continental breakfast with a rotation of various pastries, fruit, cereal etc.
Refreshments 11:30am-4pm – Various snack foods like crudites & dips in tiny mason jars, cookies and chips, candies and nuts.
Wine and Cheese 5pm-7pm – Cheese platter, salads in tiny jars, antipasti, various soups, and adorable little Peanut Butter and Jelly shooters.
Cordials and Desserts 8pm-10pm – Baked desserts like fruit crumbles and cakes, cookies, and desserts and tiny mason jars. This is also when they broke out some of their fine liqueurs and cordials to taste or,
if you prefer, a glass of wine or champagne.
There's pretty much always wine available on and beer on tap, you just need to ask a server for a pour. They also always have soda, water, milk and non-alcoholic options as well. There's even a large selection of teas & infused waters, and an espresso machine and flavored syrups.
In-room perks of a club level stay included plush bathrobes, turn-down service with chocolates on your pillow, spa quality toiletries (complimentary sunscreen!), a printed itinerary and weather report delivered daily and an incredible view!
After spending a few hours in Epcot and dinner at Artist Point (I'll blog about that later, I promise), we closed out our first evening enjoying drinks & desserts from the lounge while watching Magic Kingdom fireworks from our balcony.
Seriously, we could not get enough of this view. Honestly, we changed our evening plans twice during our trip just to take advantage of this view and watch the Magic Kingdom fireworks.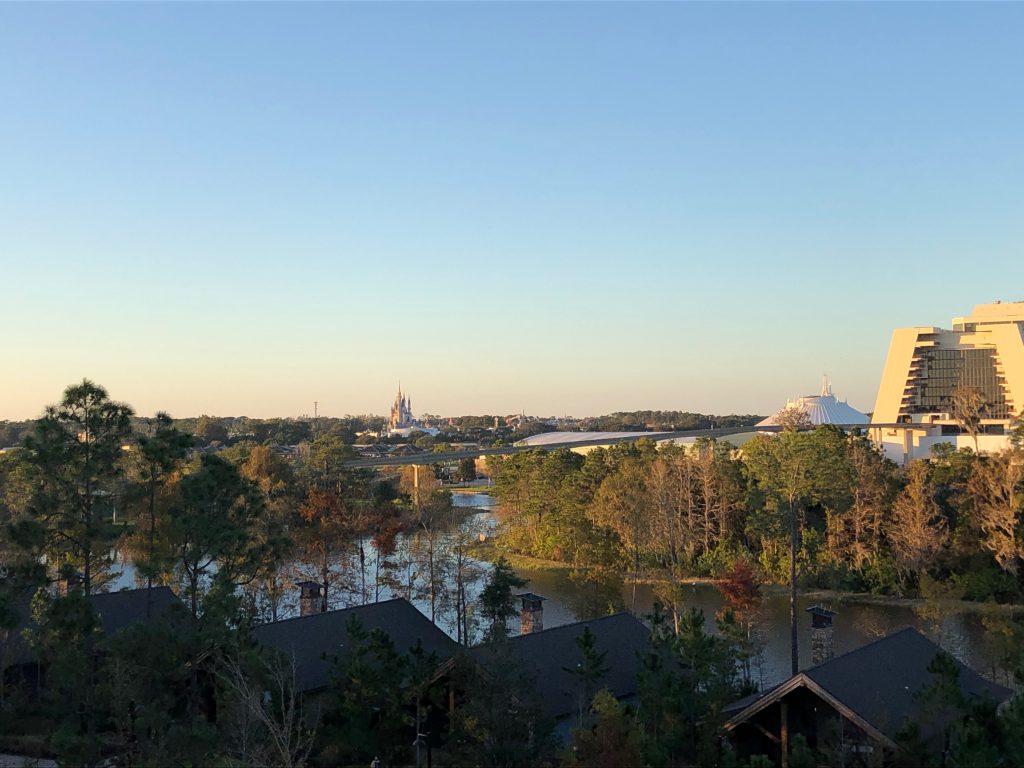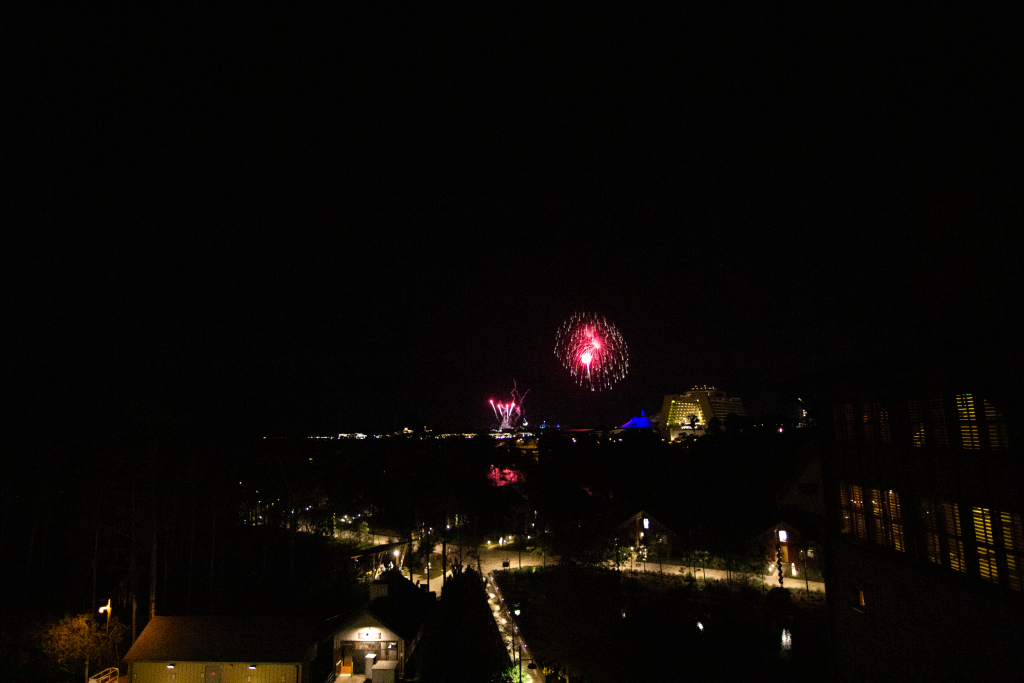 Was the Perk Worth the Price?

We had a 4-night 5-day stay booked and during that time the club level amenities we enjoyed most were the constant availability of food and beverages in the lounge, the views and the privacy.

Before the introduction of the My Disney Experience App and Magic Bands, I think the main advantage of a Club Level stay was the designated concierge service that could hook you up with exclusive dining reservations and schedule transportation for you. But now, anyone with a smartphone can do all of those things themselves. Not to mention using MouseWatcher to help find all of our dining reservations. So now I think the biggest selling points of the Club Level stay are the constantly available food and beverages, the privacy, the views and the general sense of exclusivity.

We agreed that it was very nice to have a space to relax in, other than your hotel room, that was quieter than say a resort bar or restaurant bar would be. The view from our room was also incredible and watching the Magic Kingdom fireworks from the balcony while snug in a cozy bathrobe was, in our opinion, definitely worth the extra expense. But I'm not sure that every club level stay is going to come with an incredible view like that. So if we hadn't had access to that amazing view, would be still consider it worth the expense? Honestly probably not for this trip, because we didn't spend enough time at the resort to really enjoy the club level experience to its fullest. I think we'll definitely book another club level stay at another resort, but only for a trip where we plan to spend more time at the resort.

That being said, staying club level did give us access to a pilot program that Disney is testing to allow guests to purchase additional FastPasses. So Disney obviously realizes that they've made some of their club level signature services redundant with the introduction of the My Disney Experience App and are cooking up new club level perks to re-invigorate the club level stay.

We'll talk about the VIP FastPass+ pilot program experience in another blog post so be sure to check back soon.