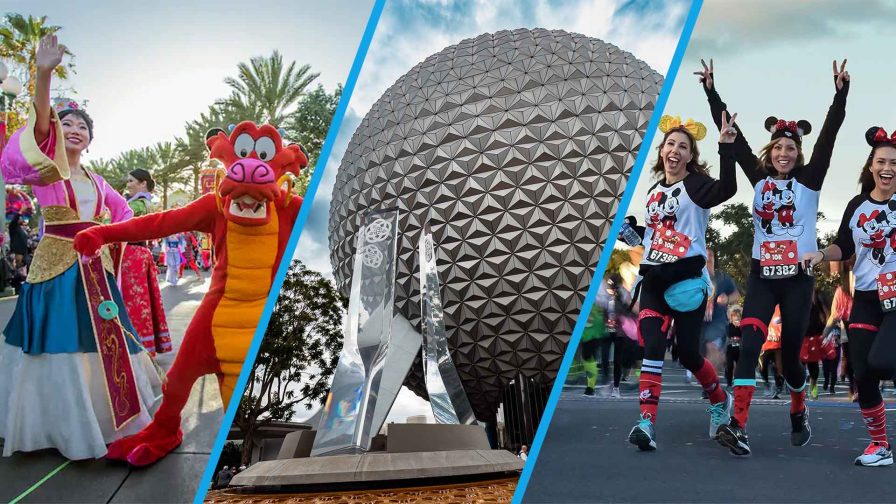 Park Watch: What's Happening This Month
And just like that it's a new year and a new month. While most of us are probably feeling some post-holiday exhaustion and taking it easy, there's always something happening at Disney. Here's a look at some of what's happening in Disney Parks this month.
Disney After Hours
Disney After Hours Events are returning to Disney World, starting with Magic Kingdom and Hollywood Studios. These are 3-hour extra ticket events that give guests a chance to enjoy the parks late at night with low crowds and low wait times for select rides and activities. This is definitely one of the most unique ways to check out the parks and perfect for anyone who is a night owl. You can purchase tickets to attend on select nights between January 4 and April 19 – several nights have already sold out.
At Magic Kingdom, the event takes place from 10:00 PM-1:00 AM and at Hollywood Studios, it runs from 9:30 PM-12:30 AM. If you have an After Hours ticket but not a day ticket for the park, you can enter the park as early as 7:00 PM.
Disneyland is also bringing back it's own popular nighttime event – Disneyland After Dark: Sweethearts' Nite. This is also an extra ticket event happening on select nights January 31 through February 16, 2023 at Disneyland Park.
Walt Disney World Marathon Weekend
Taking place amid the 50th Anniversary Celebrations at Disney World is the 30th Anniversary of the Walt Disney World Marathon Weekend. Race weekend kicks off on January 4 and runs through January 8. (Pun totally intended)
Whether or not your are planning to run any of the races, your vacation could still be affected by these events. There are several things that change at the parks and hotels during the race weekends, the most significant being road closures, parking lot closures, and post-race park crowds. The good news is that races start very early in the morning, and each has a cut-off time that runners must complete the race before or else be picked up by Disney transportation – meaning that roads and parking lots won't be closed all day.
Last year I was staying at the Contemporary Resort on race weekend and honestly forgot the marathon was happening until I saw runners coming back from their early morning race as I was headed out to start my morning at Magic Kingdom. If you plan ahead and stick to Disney's transportation options like buses, boats and monorails you will barely notice the races are happening.
EPCOT International Festival of the Arts
The EPCOT International Festival of the Arts kicks off January 13 and runs through February 20 and is a celebration of visual, culinary, and performing arts. While not as popular as the Food & Wine festival, it offers lots of unique experiences including over 100 artist booths, art-themed photo ops, musical performances, acrobatics and even opportunities to make your own art. The Festival of the Arts is free with an EPCOT admission but there are some activities offered that are an additional cost.
Food is part of the art experience as well. Like other EPCOT festivals, there are stand alone marketplace booths featuring extra cuisine options around the World Showcase, but unlike other festivals the focus is on artistic presentation. One of the highlights of Festival of the Arts is the Disney on Broadway concert series at the American Garden Theatre in The American Adventure pavilion in the World Showcase. Disney offers a Concert Series Dining Package for this event that allows you to choose from 8 restaurants at EPCOT offering lunch and dinner. Each package is prepaid with the price ranging from $47.00 to $74.00 per adult and $20.00 to $48.00 for children. The includes an appetizer, entree, dessert and non-alcoholic beverage or 1 full buffet depending on the restaurant selected, and one guaranteed seat per person to a Disney on Broadway concert held on the same day.
Lunar New Year Celebration in Disneyland
From January 20 to February 15, 2023, Lunar New Year at Disney California Adventure Park ushers in a joyous tribute to Chinese, Vietnamese and Korean cultures. During this limited time event, you'll be able to partake in a joyous cultural celebration with a touch of Disney magic, featuring Asian-inspired food and drinks, vibrant décor and costumes, rare characters, and exciting entertainment.
Reflecting the festival's growth in popularity, the culinary offerings are expanding for 2023 to include two new Lunar New Year marketplaces: Bamboo Blessings and Wrapped with Love. They will join the returning marketplaces, including Lucky 8 Lantern, Prosperity Bao & Buns, Red Spice Traders, and Longevity Noodle Co. Several restaurants will also offer Asian-inspired menu items during the event. You can purchase a Sip and Savor Pass which comes with six tabs to be exchanged for select food and nonalcoholic beverage items.
Disney100 Celebration at Disneyland Resort
The Disney100 Celebration officially kicks off January 27, 2023. For this Platinum Anniversary, the parks will be decked out in platinum – the décor, the merchandise, the snacks, the characters – all of it.
Debuting this month as part of the celebration are two nighttime spectaculars: Wondrous Journeys and World of Color – ONE. Wondrous Journeys is a new show at Sleeping Beauty Castle featuring soaring music, stunning state-of-the-art projection technology—and on select nights, sensational pyrotechnics. World of Color – ONE is a new nighttime show in Disney California Adventure Park. Both shows celebrate the rich storytelling legacy begun by Walt Disney a century ago. Mickey & Minnie's Runaway Railway will also be opening on January 27 as part of the celebration.