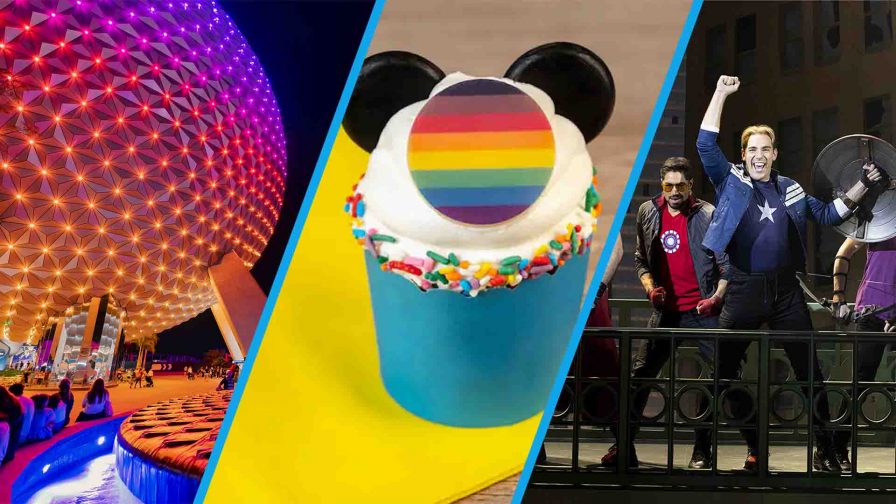 Park Watch: What's Happening This Month
JUNE 2023
It's June, and that means summer break is in full swing and it's time for a new round of exciting events at Disney Parks!
Disney World
Disney After Hours at EPCOT
Disney After Hours at EPCOT takes place select nights June 1 to August 24, 2023. This is a limited-capacity, separate ticket event that gives you the chance to ride most of your favorite EPCOT rides with much lower wait times – including Guardians of the Galaxy: Cosmic Rewind, Frozen Ever After, and Remy's Ratatouille Adventure. No Lightning Lane or Virtual Queue required! Snacks are included in your ticket cost, but select dining locations will also be open late to serve heartier meals as well. But since this is only a 3-hour event it's best to schedule your dinner plans before the event starts. The event itself doesn't start until 10:00 PM, but ticketholders can enter the park and check in as early as 7:00 PM so it's a good time to schedule a dining reservation at your favorite EPCOT Restaurant. Remember that this is a separately ticketed event, so you'll need to buy an after-hours ticket separate from a normal Disney World ticket.
Disney After Hours at Disney's Hollywood Studios also continues on select nights through June 28.
Disney H2O Glow After Hours at Typhoon Lagoon
Formerly known as H2O Glow Nights, Disney H2O Glow After Hours returned last month to Disney's Typhoon Lagoon Water Park and continues this month. This late night splash fest includes a DJ dance party with some beloved Disney characters, special park lighting effects, glowing accessories, plus snacks and drinks. And of course, all of the attractions at Disney's Typhoon Lagoon water park will be available.
This is a separate ticket event and will be held on May 20 and 27, June 3, 10, 17 and 24, July 1, 3, 8, 15, 22, 29 and 31, August 5, 12, 19 and 26, and September 2.
EPCOT International Flower & Garden Show
EPCOT International Flower & Garden Show continues all this month and so does the Garden Rocks Concert Series which is accompanied by the Garden Rocks Dining Packages. When you book a Garden Rocks Dining Package, you can choose from eight different restaurants offering a pre-paid dining experience and a guaranteed seat at one of the Garden Rocks performances that day.
These are probably not all going to sell out but performances by more popular performers may book up fast. MouseWatcher is here to help find a seat if you need us.
Disneyland
Grad Nites
Disneyland Grad Nites continue through the month of June. These events bring big crowds to Disneyland and Disney's California Adventure park especially later in the evening. California Adventure will close at 9:00 PM on the nights that grad nites are taking place.
This separately ticketed event will be held on June 2, 4, 7, 9, 14, or 16 and availability is limited.
Disneyland After Dark Pride Nite
On June 13 and 15, 2023 Disneyland Park will host the first ever Disneyland After Dark: Pride Nite during a separately ticketed evening event. Guests can enjoy special after-hours park access to shorter attraction wait times, special entertainment, Character experiences, photo opportunities and much more! Mickey Mouse, Minnie Mouse and their friends are even getting fabulous new Pride inspired outfits! Cafe Orleans is also offering a special dining package for the event.
Like other Disney After Dark events, this is a separate ticket, limited-capacity event.
Rogers: The Musical at Disney's California Adventure
I don't think I truly believed the announcement of this one earlier this year, but it's actually happening. For those who haven't followed the Marvel content on Disney+, "Rogers: The Musical" is a meta-parody musical featured in the first episode of the Disney+ series "Hawkeye." (It's suuuuuper cringey but that's kind of the point.) This limited-run one-act musical theater production will include the "Save the City" number from the show as well as a singing Nick Fury. "Rogers: The Musical" will be coming to Hyperion Theater in Disney California Adventure on June 30 and will have an approximately 30 minute run-time.