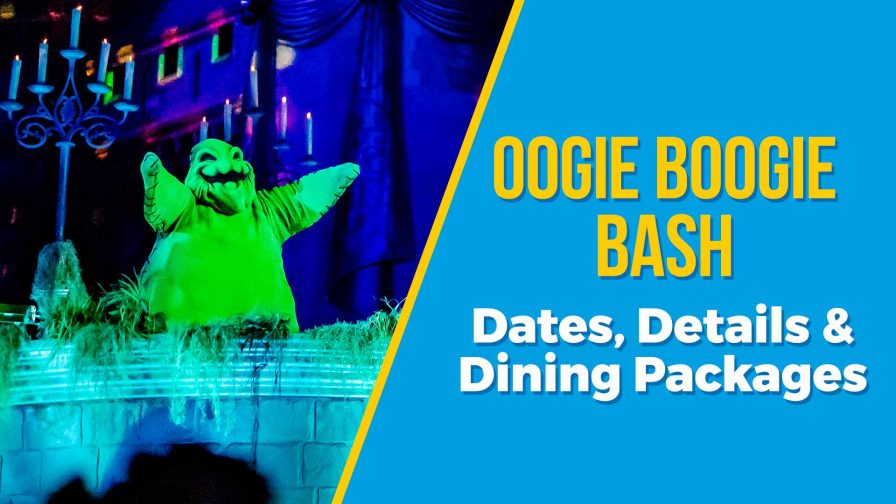 Dates and Details for Oogie Boogie Bash in Disneyland
Disney World goes into full Halloween mode in August, but Disneyland doesn't launch their Fall festivities until September 1.
Recently Disney announced the official dates for this year's Oogie Boogie Bash and revelated that they've added more dates to this year's event. The Oogie Boogie Bash will run on select nights from September 5th until October 31st for a total of 25 nights.
September: 5, 7, 10, 12, 14, 17, 19, 21, 24, 26, 28
October: 1, 3, 5, 8, 10, 12, 15, 17, 19, 22, 24, 26, 29, 31
Ticket Info
Tickets go on sale to the general public on June 29 (no earlier than 9 a.m. PT). Magic Key Holders can purchase special pre-sale tickets on June 27 (no earlier than 9 a.m. PT).
There's been a price increase on tickets this year of $5 – $10 per ticket depending on which date you plan to purchase tickets for. Previously, the price range was $129 to $179, versus $134 to $189 this year.
Tickets must be purchased online and are not available on the day of the event. There's a limit 8 tickets per person, per event date. Tickets are not required for Guests ages 2 and under. Tickets are nonrefundable and may not be resold or transferred for commercial purpose.
Dining Packages
Sonoma Terrace will be holding The Oogie Boogie Bash Dessert Party with exclusive reserved seating for the Frightfully Fun Parade. This is a separately purchased package and not included with event tickets. Each person in your party must purchase a package in order to enter the preferred seating area.
The package includes:
A special selection of haunting Halloween-themed desserts
Alcoholic and Nonalcoholic Beverages
Reserved seating in front of Sonoma Terrace for Frightfully Fun Parade on Oogie Boogie Bash party nights
Disney has not announced pricing details or dates yet but the 60-day public dining reservation window for the first Oogie Boogie Bash date of September 5th will be July 7th. Be sure to check back with us closer to that date for more details and to setup your MouseWatcher alerts.
There's been no information released yet on the Plaza Inn Halloween Dining Package but we have no reason to believe it will not be an option again this year. I have a hunch that after the July 4th Dining Package passes we'll see the restaurant page information update to include Halloween information.